Access versatile cloud-based communication and collaboration tools with ease – NK2IT provides ongoing 360° support to help your business get Cloud Connected.
NK2IT Cloud
Businesses of all sizes are rapidly switching to Cloud-based platforms to help conserve time, money, and valued resources.
Cloud-based data centre ecosystems encompass a diverse range of innovative converged technologies and intelligent managed services designed enhance core business functions and improve workplace communication, collaboration and productivity.
Cloud surpasses the capabilities of traditional onsite server and storage area networks (SAN) in speed, simplicity, mobility and cost-effectiveness.
NK2IT Cloud management solutions can be implemented as components of your primary or hybrid data centre strategy to enhance business mobility and productivity, and reduce on-site storage operational expenses.
Microsoft Azure
MS Azure's integrated tools, unified services, and proven solutions allow businesses to build enterprise, mobile, web, and Internet of Things (IoT) apps faster, for virtually any platform or device.
Azure supports the broadest selection of devices, operating systems, databases, languages, frameworks and tools.
MS Azure provides access to Windows, Linux, virtual machines and containers and Active Directory, and is compatible with toolsets such as Visual Studio, XCode, Eclipse, GitHub, and Hadoop.
The industry-leading MS Security Development Lifecycle (SDL) assurance process is inbuilt into Azure to provide users with enterprise-grade privacy and security for all data and services.
Microsoft Office 365 for Business
MS Office 365 for Business combines the familiar Microsoft Office desktop suite with Microsoft's next-generation cloud-based communication and collaboration services to support an unparalleled degree of security, reliability, connectivity, and user productivity.
MS Office 365 provides full access to the MS Office suite alongside advanced cloud-based collaboration tools to help users be productive from virtually anywhere through the Internet.
Package includes
MS Office Suite,
MS Exchange Online,
MS Sharepoint Online,
MS Skype for Business Online.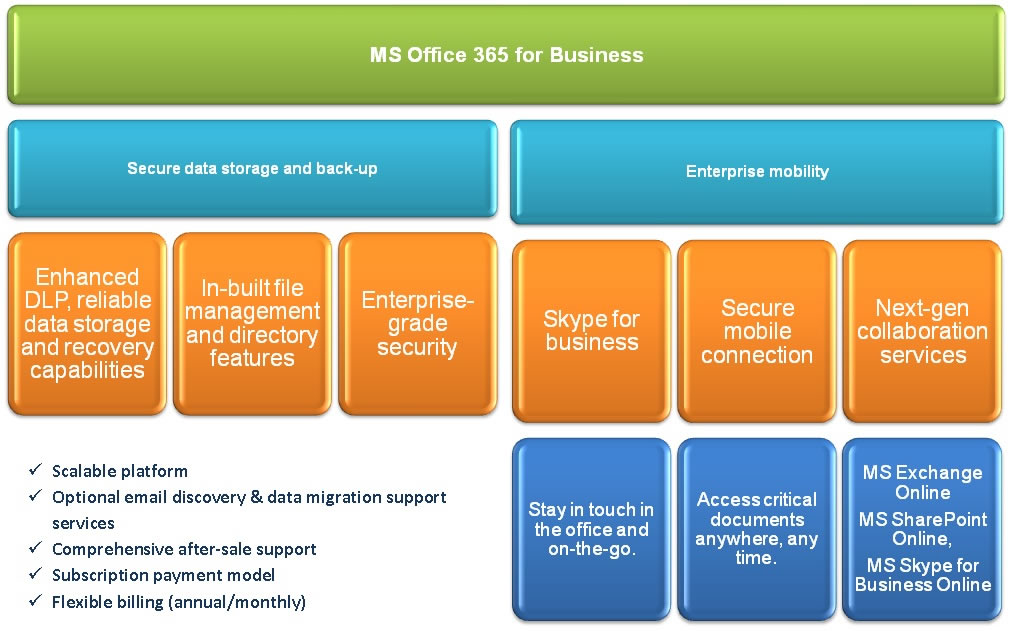 NK2IT Cloud Support
NK2IT offers reliable data migration, management and back-up options to give you peace of mind when transitioning to Cloud.
Managed services & Remote systems maintenance
Comprehensive after-sale support
Data migration to Cloud (for existing onsite data and mailbox)
Secure onsite Back-up
Cloud storage upgrade
Additional Services
Additional Support
We provide comprehensive after-sales support as part of our holistic LCP approach.
NK2IT's remote systems maintenance and managed services capabilities are available to improve manageability and reduce on-site IT maintenance expenses.